This has to be one of the better books I will read this year. It will most certainly be the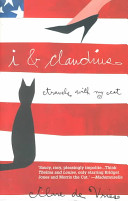 funniest.
The laid back narrator Clare decides that she will take her aging cat Claudius on a trip across the United States, since he is nineteen years old and not likely to have much time left. Claudius is amenable to the idea, and accompanies her, commenting on her various misadventures, which include visiting men and women she has contacted previous to arriving at her destinations.
She starts in New York, where she visits some friends and finally tires of the city and heads to Nashville and Memphis, then takes a southern route through Texas, then Arizona and the Grand Canyon, and ends up in California. Claudius gives her several health scares along the way but she manages them with her usual aplomb, arranging to visit the vet and getting Claudius the Kentucky Fried Chicken he favors. Claudius, it turns out, is the only one she can depend on in this crazy world.
The narrative is so well written that I often found myself reading it twice because it was so funny and perceptive. Being British, Clare had some keen observations about American life that, though not deprecating, were still dead on accurate, simultaneously wacky and sage. The pages fly by, and despite the inevitable conclusion to Claudius' journey, the devotion Clare has for her cat is positively inspiring. In fact, I think this story may be part of the inspiration for one of my own stories, temporarily shelved for the current Nanowrimo project.
A book I want to lend out so that others will enjoy, but will insist on getting back.