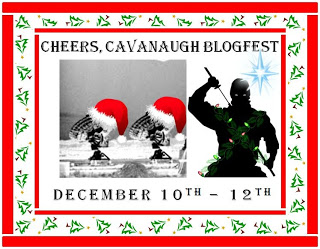 It is my great pleasure to be a part of the raucous party known as the Cheers, Cavanaugh Blogfest and raise a virtual toast to the enigmatic but influential writer who has made the blogosphere a better place to be. While the self-proclaimed Ninja seems to be everywhere at once, he remains an enigma to us all. It is time to fuel the rumors and postulate on the man behind the myth!
This blogfest comes with prompts to keep us from waxing on endlessly, so let's get to them:
What does Alex look like? He is a broad-shouldered god with dark wavy hair, towering in his leather boots, wearing a cloak embroidered with a Floyd Rose Tremolo.
 Who could play Alex in a documentary? Christian Bale – rugged, cerebral, and blessed with a mellifluous command of the English language-would be perfect!
Who does Alex remind you of? Since Alex is the rock star of the blogosphere, Matthew Bellamy of Muse, with his hot licks and prowess with women would be someone that Alex reminds me of.
Write a flash fiction using all these prompts: ( Cavanaugh, Ninja, IWSG, Cosbolt, Guitar)
Apocalypse Averted

Drowning in a river of insecurity, a forsaken writer tapped out her final post.

"Help me, IWSG! The writing community has scorned me!"

Alex J. Cavanaugh, hunched over his guitar, engrossed in strumming the last minor seventh of his requiem to the end of the world, heard her cry. Since his Cosbolt was in the shop, the Ninja engaged his trusty blog hop companions. "A writer is in need! Encourage her!"

The blogosphere heard his entreaties. The hapless writer nearly spilled her Michelob over the keyboard when she saw all the comments awaiting moderation.

"Keep going!" "First draft always stinks."

Before you could say CassaStar, she was back at her keyboard, finishing the novel that would take the world by storm.
How about you? Has there been one person who makes the blogosphere a happier, saner place for you to visit?
Thanks Mark Koopmans, Morgan Shamy, David Powers King, and Stephen Tremp for hosting and thanks, Alex J. Cavanaugh, for all the kind words of encouragement and inspiration! You Rock!
Image courtesy of Rodrigo Tambem @ Stock.xchng