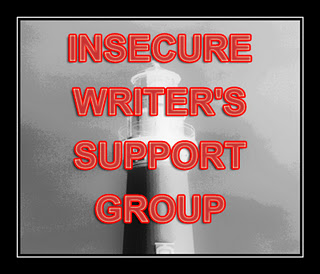 Got self-doubt? I do!
On the first Wednesday of every month the inspiring Alex J. Cavanaugh and some of the most amazing writers on the web get together to talk about it. Click this here linky to join me and The Insecure Writer's Support Group as we circle the wagons to huddle around the campfire and share our stories.
Today, I'm going to talk about National Novel Writing Month and how writing fifty thousand (or more!) words in a month has been a great confidence builder for an insecure writer like me. One NaNoWriMo experience in particular marks an unforgettable turning point of my writing journey.
Two years ago I participated in my second NaNoWriMo and, having clocked a personal-best word count of 121k, I was already feeling pretty happy about my writing prowess. But there was another challenge I had determined to overcome that year: Sharing excerpts of my work.
The NaNoWriMo writer's profile has a page where one can post an excerpt of the work in progress. I knew I had a problem when I took my excerpt back down after only a few hours because I couldn't stand the thought of someone seeing it!
Yes, I'm that insecure about sharing my writing.
I persevered and put another excerpt up, but it took all the courage I could muster to leave both the story summary and an excerpt up on the page for the duration of November.

That was why a particular challenge involving a seventeen minute word sprint and a subsequent posting of a snippet from the resulting words was perfect for me. I love word sprints, and the part about posting snippets was a good dare for me–especially because the forum offered no possibility for taking my words back down once they'd posted. I did this four or five times, and each time it got a little easier. I tried not to think about other writers actually reading them. I hoped everyone was too busy with their own stories to care about mine.
Then, at one of the last write-ins, I met a few other NaNoWriMo participants, known in Nano-land as Wrimos. As we talked about our stories, about why Twilight was so successful, what we liked and didn't like about our protagonists, and various other sundry writerly topics, one of the other Wrimos asked me what my on-line handle was.
"Oh, I'm Larkk," I told her.
Her response was spontaneous. "You're Larkk? Omigosh, I love your story!"
I was so overwhelmed I almost started to cry. All I could manage was, "Really? Seriously?"
"Yeah," she continued. "It's such a cool idea, and I like your characters. I love the parts about flying, and the fog, and the numbers."

Floating on a cloud of caffeine and happiness, I pulled myself together as best I could and proceeded to tell her more about it. She liked everything I told her. Never had I expected someone to actually like something I was writing, much less love it! In my insecure world the most I'd ever expected was for people to think it wasn't horrible.
I can't say that it will ever be easy for me to post excerpts and chapters–or to publish my stories. But that day, the revelation that someone might actually love my story as much as I do changed my outlook on my writing. These words will always ring in my recollection:
"Omigosh, I love your story!"

How about you, Insecure Writers? If you're doing NaNoWriMo, how does participating in a crazy month-long writing sprint help you become a more secure writer? Has anyone ever done or said something that made you a more secure writer?
And, if you love someone's story, tell her! You just might make her day.