Welcome to this month's Insecure Writer's Support Group where, thanks to the genius of Alex J. Cavanaugh,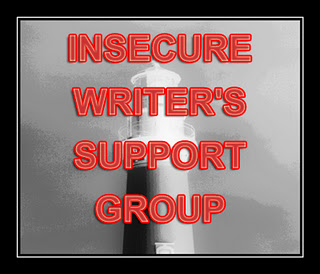 writers all over the world-wide web gather to share their insecurities and triumphs. If you want to join us, click the linky and add your name to the list of some of the nicest writers on the web!
For this month's post I have a question for my fellow writers. As it's summertime all over the Northern Hemisphere, I'm watching people pack up their swimsuits and head to the lake house, where they will sit under shady oak trees sipping lemonade and ruminate on the folly of the daily grind.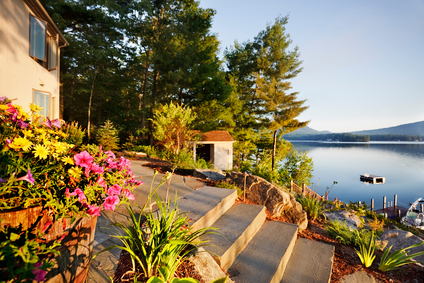 I've begun to wonder.
When everywhere the gainfully employed are kicking off their sneakers and running barefoot in the lawn, when do writers get a vacation? When will I feel entitled to set aside my storytelling wizard hat and turn into a normal human being for a spell?
Of course there are those who would mock me and say that sitting in front of a computer screen transcribing daydreams isn't work at all. And, in that sense, they're right. I do enjoy almost every single minute of my writing adventures. Even

thinking about stopping makes me sad, and as Stephen King so aptly describes his compulsion to write in On Writing:
"… when I'm not working, I'm not working at all, although in those periods of full stop I usually feel at loose ends with myself and have trouble sleeping. For me, not writing is the real work." (On Writing pages 148-149)
And yet, in contrast, he writes, about writing workshops, where entire days are devoted to writing one's masterpiece:
" … the larger the work looms in my day—the more it seems like an I hafta instead of just an I wanna—the more problematic it can become." (On Writing page 235)
I think my issue lies somewhere in between these extremes: There is just so darn much I wanna do, that it's starting to feel like I hafta.
I just crossed over 50k words on my latest WIP and that's going gangbusters. If I could just focus on that I would be a happy camper. But I'm also more than halfway through posting my revised novel chapters at Critique Circle, and I'd really like to get through the whole book there. I'd love to devote more attention to all the courses at the Holly Lisle Boot Camps  I haven't explored yet. And though I know I don't post nearly enough here at A Scenic Route, I've even thought about declaring a blog hiatus.
I know. Blasphemy!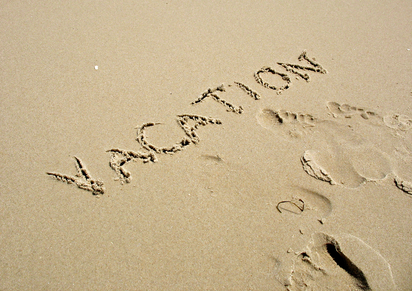 So, Insecure Writers, how do you decide when it's time for a vacation? Is there a way to cut back and still be happy with one's progress?
And would you guys really desert me if I missed a whole month of posting?
.
.
.
.
Footprint images courtesy of Image Courtesy of Marek Trawczynski, lake house courtesy Jo Ann Snover, vacation in sand courtesy of ArenaCreative @

StockFresh

.