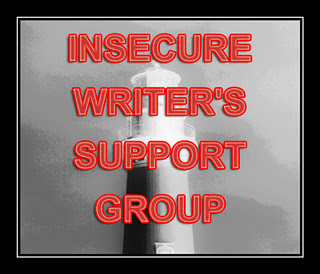 Welcome to 2013, Insecure Writers! If you're not already part of the Insecure Writer movement that is—thanks to the inimitable Alex J. Cavanaugh— taking the Internet by storm, click this linky to add your name to the list of some of the nicest writers on the web. The first Wednesday of each month is the day we post about our trials and traumas, supporting each other as we overcome our writing troubles.
A new year is always an opportunity to look back upon what was and what could have been. In my case, a lot of 'could have been' never gets past the gatekeeper of, "Would anybody really want to read this crap stuff?!" But then sometimes, I think maybe I should have given it a shot. Hence, fellow Insecure Writers, I present for your amusement: A glimpse of the posts that didn't make the cut for the year 2012: My Blogging Blooper Reel
Take for instance the unfinished post: Building the Perfect Hero
He's handsome, of course, but with scars.

Okay, but describe handsome. Handsome starts with the eyes, deep-set, probing, intelligent, thoughtful. Not sharp, unkind, or darting about the room while I'm talking, but looking directly into mine without fear, with curiosity. They can be any color. Blue is overdone, but green will work, and in my hero's case they're brown with auburn highlights …
Another post was about how a trip to the E.R. ended up nudging the Muse to whisper the name of a main character in The Whole of the Moon. The post was tentatively titled Stranger than Fiction.
I had asked the Muse a week ago but had given up on getting an answer. The heroine's father was in need of a name. And since he is a god, it needs to be a good one. I can see what he looks like, bushy white eyebrows, aquiline nose, and a stern, disapproving set to his mouth, weathered skin framed by a cloud of white hair. His frame is aging, but every bit as powerful as it was in his youth. A name worthy of such a man would not be an easy assignment.

Then, as the darkness of sleep crept upon me, I heard a name whispered inside my head.

Teragus Swansong.
I had a mind to post a character sketch for Danny DeVries- a minor character in The Tempest's Serenade:
Hi Danny. Got a minute? I know you're busy tonight, but if you could just…okay, I'll sit back with my margarita and speculate. Thanks for the drink, by the way. I know they are mostly for the tourists so I really appreciate you sending one my way even though I'm a regular.

So, I'm trying to get what you look like onto my page.

What? You hate your looks? Who doesn't. Getting older stinks, especially in self-conscious, self-absorbed SoCal. There are a lot of nice people in Los Angeles though, you just have to be open to them …
There was a short post about a pivotal scene that came to me on a rainy afternoon: Caught in the Rain
A sudden shower, a dusty gem of a song, and a burst of inspiration written on the back of an airline ticket was all it took to give my story another nudge in the direction of the book I set out to write.

My mind's eye saw a newspaper article announcing the tragic death of an emerging musician by drug overdose tacked on a bulletin board. Beside it were lyrics and some chord charts hastily scribbled in dark pencil.

My female lead, insisting, "Because I'm a ghost" when I am desperately trying to keep her from disappearing off the page. She has unfinished business she left behind. She haunts him.
I had some interviews with Rigel, the protagonist of Book Two of The Dragon's Milk Chronicles:
He gets up early, like me, before the rest of the world wakes up. It gives him time to think, time to let his defenses down. I'm not even sure if I should bother him.

"You again." He tries to appear angry, but I can tell that he is glad to see me.

"Just a few more visits. I have some things on my mind."

"Okay, I suppose so," he says, but I know that the word 'okay' might not even fit into my fantasy world, even though it is set in our world.

"Can you tell me more about the girl you loved?" I ask him.

"You want to know her name, don't you?"

"I do."
I had an interview with the love interest in The Tempest's Serenade all cued up, before I backed out. It went something like this:
"Libra?" I ask.

I try to be calm and soothing. She's a nervous girl, and very shy. She looks around the room the way my cat would, always prepared with an escape route. I don't describe her blue eyes, but choose instead the fragile bones beneath her cheeks. Her lips part in a tremulous smile.

"You don't usually ask for me," she says. "It's always Nick."

"Does that bother you?"

"A little."
Nick was angry with me once:
"You know why it is taking so long on this revision, don't you?"

I sigh, and keep typing. I know what is coming without even thinking about it too much. "You were meant for this," he says, "Why do you always try to deny it?"

"I can't bring myself to let it go."

"You are hiding. Why?" His eyes are gentle, his anger gone. "Why?" he reiterates.

"Said bookism," I accuse him weakly. Why is he beating on me, when I am so tired?
And then, I was going to post the scene when Nick got his guitar at twelve years old: Nick and the Black Strat
A long-haired dude saunters up to the two of them and addresses Nick's father. "What can I do you for?"

His father looks him over, and tries not to judge him. The guy can probably play the pants off Eddie Van Halen. Erik used to listen to rock music himself, but now music makes it hard for him to think.

"It's for my son."

The long-haired dude looks down at Nick, who can't disguise his fervent admiration for anyone who plays the instrument he loves so much.

Nick looks up at him and smiles. "Can you play Van Halen?"

The dude grins and rolls up the sleeves of his flannel shirt to reveal tattoos up his elbows. "'Course I can play Eddie, and I can play Jimi and …Satriani. " The young man plucks a guitar from the upper row, bright red with black hardware. Nick grins in anticipation, but it is all Erik could do to keep himself from rolling his eyes.
Most recently, there was the post about my story having a shape:
Sometimes writers talk about writing with intention. For me, it is the unintended, those moments where I discover what my subconscious is weaving into my words, that gives me a glimpse of my soul.

One of my favorite aspects of drafting a novel at the accelerated pace of NaNoWriMo is when a pattern begins to emerge in the tapestry of my story. Halfway through The Whole of the Moon I was struck by a theme that keeps popping up. My story has a shape. That shape is a circle …
There are more, but that's enough for today, don't you think?
How about you, Insecure Writers? Do you ever toss posts back into the bin because it's just too scary to put them up there? Do you have a blogging blooper reel?
Images courtesy of Antony Ruggiero, Chrissi Nerantzi, 'Lucretious', 'RockNRollP', Billy Alexander, and Alaa Hamed, Christy Thompson @ stock.xchng