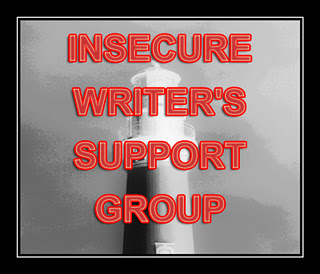 Welcome to this month's Insecure Writer's Support Group post, which you'll notice is the only post on this blog since last month's Insecure Writer's Support Group post. I know. I need to post more. If it weren't for the IWSG, my blog would probably fade away into oblivion!
But fortunately for this blog the insecure writers meet on the first Wednesday of every month, and fortunately for the IWSG, I am almost always insecure.  So thank you, Alex J. Cavanaugh, for giving insecure writers like me a place to share our doubts and concerns without fear of appearing foolish or weak. Want to join the IWSG? Just click this linky and hop on over to meet some of the nicest writers on the worldwide web.
Today I'd like to talk about the results of last month's experiment in literary abandon, a little adventure called NaNoWriMo.
First I give you: Exhibit A
It appears that I won, doesn't it? Look at that word count! And I'm consistent too, writing thousands of words every day like it's nothing. In fact, I wrote ten thousand extra words to cover myself as a winner, just in case some of my writing is so awful that it falls outside the parameters of literary abandon. You'd think I'd be exploding with confidence.
But I'll tell you a secret. I didn't really write a novel.
Witnesseth: Exhibit B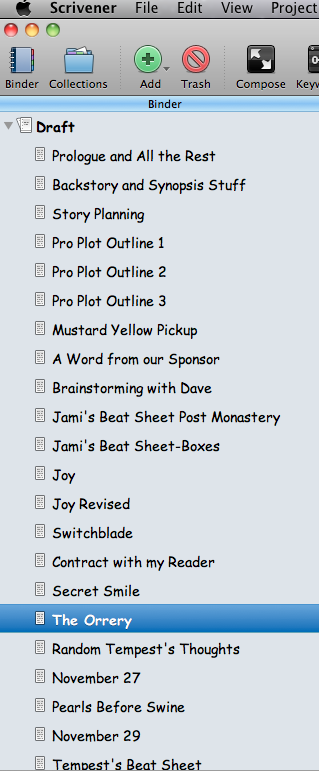 As may be apparent from the list, I dutifully wrote the first scenes of my novel for the first ten thousand words, but then, because there's nothing like deciding to write a new novel to make me want to revise the old one, I revised my other story and counted those words toward my word total.
Then revision ended up being really hard and the words didn't pile up quickly enough, so I ended up goofing off. What kind of goofing off?
May I present: Exhibit C
My Muse drove a mustard yellow pick up truck through the middle of my novel.

Word count: 2718 words

I consulted with an imaginary literary agent about what my novel needed to make it work and why I was having so much trouble figuring that out. I spontaneously stopped punctuating dialogue and left it that way because I thought it would be cool.

Word count: 11,683 words

Then my protagonist from Ye Olde Novel showed up with a switch blade and dared me to start cutting up his story.

Word count: 3092 words

After that my Muse came back and took me for a ride on his new orrery.

Word count: 1390 words

Goofing Around
In between all this, I did manage to make significant progress on my revision, but why do I persist in zigzagging back and forth between stories like this? Why can't I at least stick with one project for a month? Why can't I write in a straight line like everyone else?
Don't get me wrong. I had a blast writing during NaNoWriMo. There were times I would sit down in front of my computer bursting with words, and lose track of time while I wrote them. I was laughing at my Muse's antics, gasping at the revelations I came up with in my revision, daydreaming about scenes for the new story draft. But through all of these words I got nothing finished.
Everything I wrote needs work. It's too weird. Or it's too long. Or it's poorly punctuated.
Which is why I have to ask myself why I feel compelled to write things that defy any sort of publication. Have I lost the ability and desire to write stuff that might appeal to readers? Or have I simply lost my nerve? If this blog is my playground, why am I afraid to come out and play? Is this merely the painful adolescence of my development as a writer?
Will I grow out of this awkward stage and into a real writer? Or am I doomed to write weird stuff that doesn't fit into any of the proper boxes?
I don't know. All I know is that I don't want to stop!
How about you? Do you work in a straight line? Or does your creativity take the scenic route like mine?
Orrery image courtesy of Sage Ross @ Wikimedia Commons