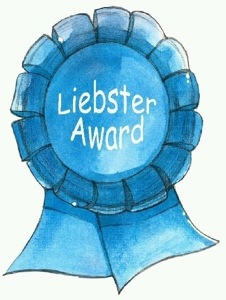 As I was casting about ideas on what to post for your reading pleasure, all the while frantically wrapping presents, baking cookies, and packing my suitcase for another cross-country trek, I was honored to discover that the lovely and talented Vikki at the View Outside has presented this blog with the coveted Liebster Award. Thanks, Vikki!
Me? How sweet! But what about Christmas?
So I've decided to combine the holidays and this honor to unveil the first and only Liebster Award-Holiday Edition. Now these awards come with rules—yes I know, so confining—but here at A Scenic Route, we like to twist things around a bit, so expect a surprise or two.
Here are the Official Rules:
1. When you receive the award, you post 11 random facts about yourself and answer the 11 questions asked by the person who nominated you.

2. Pass the award onto 11 other blogs (while making sure you notify the blogger that you nominated them!)

3. You write up 11 NEW questions directed towards YOUR nominees.

4. You are not allowed to nominate the blog who nominated your own blog!

5. You paste the award picture into your blog. (You can Google the image, there are plenty of them!)

In keeping with the Holiday Liebster theme, here are eleven things I like most about Christmas:
The smell of fresh pine in my house
Christmas music, all kinds from Mannheim Steamroller to Vince Guaraldi to Bruce Springsteen's Santa Claus is Coming to Town
Mulled wine: the taste, the aroma, and the warm, fuzzy feeling you get when you drink it
Cozy sweaters
Cars driving around decorated with wreaths and antlers
Wrapping presents!
Random acts of kindness
Gingerbread houses
Streets lined with twinkling white lights
Jingle bells
Sitting around the fireplace with the people I care about most in all the world

Now I am to answer the questions Vikki asked:
Are you a punctual person or are you usually late? I come early and bring a book to read while I'm waiting.
How many hours a week do you spend watching TV? Now come on, be honest! Honestly, we turned off the cable a few years ago. I know, blasphemy! We just rent movies a few times a month.
What do you wear in bed? Umm, pajamas. It's cold outside!
In a heated argument do you walk away or keep at it until you've had the final word? I walk away before the argument starts. I usually know how people feel about stuff before they start talking, and no one ever listens to me anyway.
How many times a day do you look in a mirror? Come on, you can tell us. To put my contact lenses in and my make up on. Then I never look back.
What's the first thing you do when you wake up? Pet the cat.
Do you consider yourself lucky?  Yes. When I met my husband I knew I was the luckiest girl in the world.
Do you fear death? Of course. But what I fear more is not leaving a mark on the world before I die.
What are your top 3 pet peeves? Impatient people, rude people, presumptuous people
What character in The Wizard of Oz are you most like? The Wizard! I'm the man—or rather, the woman— behind the curtain.
How many pairs of shoes do you own? At least thirty. And that's not counting boots! But I love them all equally.

My eleven questions are going to be holiday themed too.
What is your favorite holiday gift of all time?
Which is your favorite holiday special: Charlie Brown's Christmas or It's a Wonderful Life?
What is your beverage of choice: Eggnog, mulled wine, or hot chocolate?
What is your favorite holiday song?
Who are you going to kiss under the mistletoe this year?
What was your best holiday bonus from a job?
What is your best holiday memory?
What was the kindest holiday gesture ever made by a stranger?
What's on your wish list this year?
If you could spend your holiday anywhere in the world just by snapping your fingers, where would you be?
Who would you take with you?

As for my nominees, I'm making a list, checking it twice, and all these bloggers have been especially nice:
Peter Cruikshank-It Is What It Is?
Virginia at Poeta Officium
Anushka Dhanapala at Finding My Creature
Katherine Checkley at The Intrinsic Writer
But wait, you say,  that's only ten nominees? That's because the last spot is reserved for you, loyal followers. You are all deserving of this very special holiday Liebster Award, so if you'd like to participate, pull this one out from under the tree and take it home for your very own.
Whew! That was longer than the Twelve Days of Christmas! So, how about you? What do you like most about the holidays?
(Images courtesy of Renate Kalloch @ stock.xchng)