Jamie Ayres, fellow blogger and a wonderful writer, is hosting a blog hop that sounded like a lot of fun. The rules are simple. Post the first page of your novel, then read and offer feedback on other participating blogs. Next Wednesday five of the entries will be drawn for a first page critique by author Heather Burch, who has just published her debut novel, Halflings.
Since I've just finished a second pass through my Chapter One, this is perfect timing for me. What a great opportunity to post my work and get some constructive feedback. I've found that I just love tweaking words! Here are Jamie's contest rules plus links:
"
If you'd like to participate, then please email me at info@jamieayres.com & post the first page of your manuscript on YOUR blog. I will compile a list of the participating blogs and post them here. That way, everyone can hop around and post constructive feedback on each others first page. I will randomly draw five names to receive a personal critique from [author] Heather [Burch]."
.
My entry goes like this:
Title: The Tempest's Serenade
Genre: Mainstream Paranormal Romance (still working on finding my niche)
Word Count: 95,000
Pitch: After a near-death experience causes him to cross into the afterlife, gifted guitarist meets the angel who has haunted him since boyhood and discovers the secret behind his preternatural talents.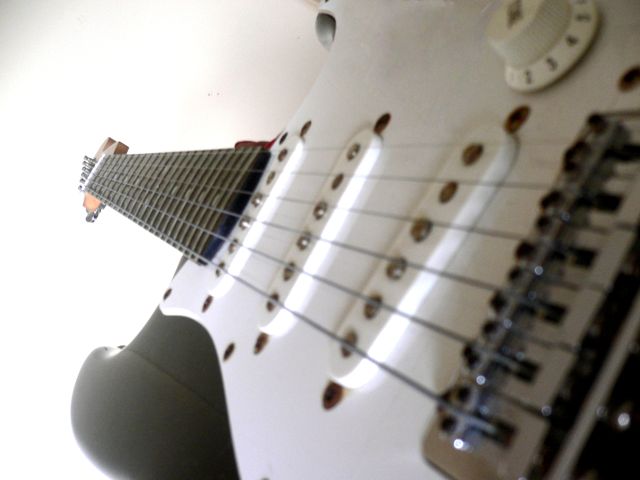 My first page:
Christmas lights just didn't look right draped over palm trees.
Outside the window of Nicholas Moore's apartment, the palm tree's festive disguise reminded him the recording was supposed to be finished by Christmas break. And all Stuart could talk about was his date tonight.
Nick cradled his guitar, more than ever like a living, breathing creature that demanded his undivided attention. He could still remember the day he'd first held it, seventeen Christmases ago, with his fingers too small to reach all the way across the frets of the black Fender Stratocaster. How would he know if this was the one, he'd asked the shop owner. He remembered the man's words.
You've got to hold the guitar in your hands and feel the neck and the action, and how it snuggles up against you. You've got to close your eyes and let it vibrate next to your skin before you know…this is the one.
Today Nicholas Moore balanced this love on one knee while manipulating the controls on his effects box.
"Thought we were going to work on 'Thirteen Steps' today?"
Nick started, shaken from his reverie, his last chord disintegrating from a D minor seventh into a major mess. "What?"
Stuart sank into the wingback chair. He twisted the cap off a bottle of vitamin water, and held it in front of his lips. "'Thirteen Steps' The one I just wrote. I thought we should work on the bridge some more before we take it to the rest of the guys."
"Yeah, sure, just gimme a minute," Nick replied.
"I gave you a minute, man. It's been half an hour. I can't stay here all afternoon. I got a date."
Nick looked up from his guitar to see Stuart grinning. The idea of Stuart the ex-drunk sitting next to Courtney for the duration of dinner and a movie would take a lot of getting used to.