Although you might think A Scenic Route has joined the ranks of endangered blog species, I want to assure everyone that I'm still here. I know that during the busy NaNoWriMo season my posts are dwindling until they're almost nonexistent, but hopefully I will return from my expedition into literary abandon with the bones of another novel on my hard drive.
Meanwhile though, I wanted to send a bit of encouragement out to some fellow bloggers who might need a boost. Luckily, there's a blogfest for that!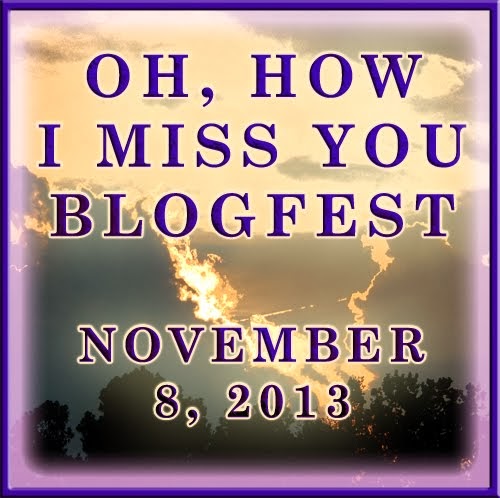 It's called, Oh, How I Miss You, and is co-hosted by three fine gentlemen: Alex J. Cavanaugh, Andrew Leon and Matthew McNish. It prescribes listing three blogs that I would miss if they were to disappear and three that I miss now that they've faded into the murky depths of the world-wide web.
I'll start with the blogs I would miss if they were gone:
Ink: You want book reviews? Playlists? Witty and insightful commentary? Ink's got you covered. There's even a chair rating to size up the novel, ranging from downright cozy to hideously insufferable.
Kristina Stanley: Posts with novel-writing tips, sunsets and turquoise seascapes from on board a Lagoon 380 S2 catamaran, not to mention snapshots of a dog named Farley cavorting on the beach are always a most welcome visitor to my inbox. Especially now that winter's on the way, I will need my three times weekly dose of sunshine more than ever.
Vikki at The View Outside: Vikki's self-deprecating posts about her writing journey are always a welcome dose of inspiration. Her determination, story snippets and triumphs always make for interesting discussions in the comments. She's on hiatus for November during NaNoWriMo, but I sure hope she comes back soon!
Then there are the blogs where I search in vain for new posts in my Inbox. I miss you guys!
Mike Schulenberg: Fun filled banter on topics ranging from cocktail tables shaped like octopi to the algebra of the damned never failed to bring a smile to my face even on the gloomiest of days. It seems his journey has taken him away from the web for the time being, but I never give up hope that he will return with more stories from his Realms of Perilous Wonder
Lynne Revette Butler: I found her blog during the A to Z challenge and was treated to a summer of gorgeous photographs taken from her garden in South Oxfordshire, England. Now that fall has settled over the northern hemisphere, I hope I don't stop receiving the occasional greeting from England.
Melinda Hagenson: A fellow Holly Lisle Writers' Boot Camp student and college English teacher, Melinda writes gorgeous posts about life in Wisconsin and shares many a useful grammar tip. Thanks to her blog I can now wield a semicolon with authority. I hold out hope that she will post a nugget or two in the busy fall semester!
Who would you miss if they stopped posting? Do you know any blogs on the endangered species list?