And you thought you were rid of me for the whole month!
No such luck. Besides, I have something kinda cool to share.
I've been struggling with keeping track of multiple projects. It seems I like to jump around from project to project, a characteristic of the Muse I've come to love and accept. This does however lead to a very convoluted to-do list, especially because every time I change course I have to rearrange the list. Not only is it hard to measure progress spread across so many places, but it is also difficult to keep track of where I left off with each project. Worst of all, every time I take the top item off the list to replace it with something else my self-esteem takes a hit.
And my Inner Critic screams, "Failure!"
Just for fun, I opened a Scrivener document on my To-Do file and tried to list every single thing I want to work on in the next year or so: All the stories I want to write, the stories I want to revise, the works in progress, the chapters I want to post for critique, the books I want to read (and I like switch off between several at once; doesn't everyone do that?) and even little projects like fixing up Ye Olde Blogge. Everything.

The list was twenty-one items long.
As I stared at it, I was struck by an idea.
How about treating each project as its own Scrivener document, turning it into an index card and keeping track of progress inside the document? And then how about color coding each one according to project?
The Muse loves colors!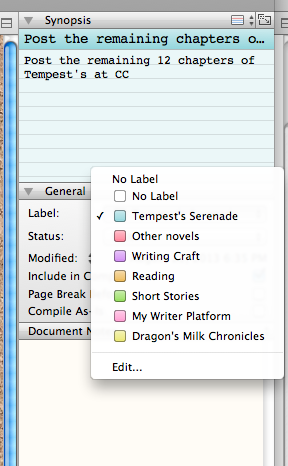 I decided blue would be good for The Tempest's Serenade (my revised novel), yellow for The Dragon's Milk Chronicles, red for my other first draft stories, purple for writing craft stuff, orange for reading.
It didn't take long before I had a pretty cork board with everything I want to do spread out in neat color-coded rows. I've sorted them into the order I want to work on things, starting at the top left corner. First: Finish posting chapters of The Tempest's Serenade at Critique Circle. After that: Finish the first draft of The Way of Wolves.
I can keep track of where I'm at on the document part of the card and I can add images or links there as well. Making a new project is easy too. When I decided that I really don't want to work on something as epic as the third book of my trilogy for NaNoWriMo, and work on a lighthearted romantic comedy called Karma's Dragon set in the real world instead, I just make a new card and slide it into the queue in the order I want to do it.
No failure here. Just a rearrangement of priorities.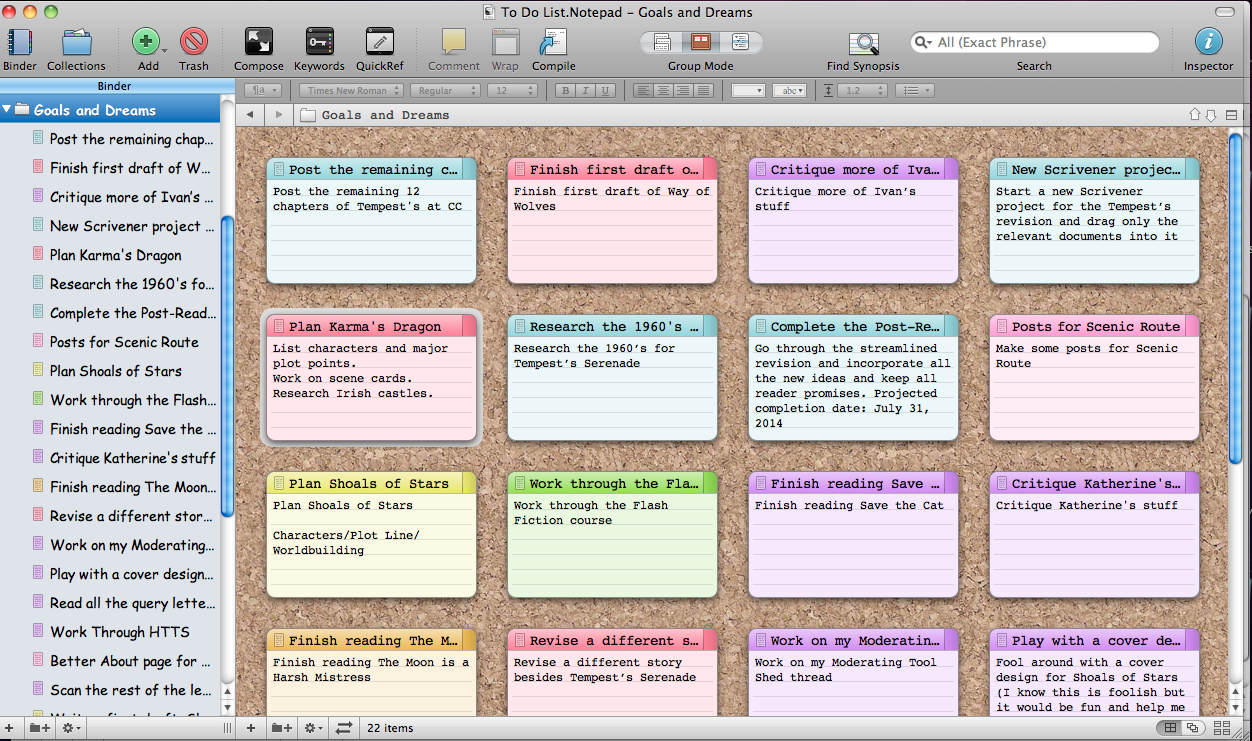 How about you? How do you appease the Inner Critic? And do you read one book at a time, or switch off between several?
Colored hearts image courtesy of Sigurd Decroos @ Stock.xchng