So it seems there's this meme going around, and A Scenic Route has been nominated. Such a statement would only make sense to someone familiar with the blogosphere, so I'll explain.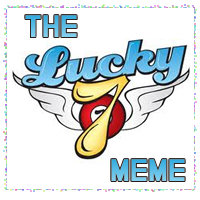 Blogger extraordinaire, Jamie Ayres keeps up with all the latest trends, and has noticed my little blog and given me an opportunity to play along with the Lucky 7 Meme. The rules of this game are:
-Go to page 77 of your manuscript, count down seven lines or seven sentences. Then, post these on your blog.
So, here it is, exactly what I found when I opened to page 77:
Though the years had not been kind to Dr. Leonard Milo, Libra wished with all her heart she'd stayed behind and not followed William's siren song into the netherworld.
She watched as Nicholas shook hands with the producer, though Nick's posture suggested resignation not resolve. Nick started making his way towards the bar, greeting fans with staged enthusiasm. Libra knew his heart wasn't in it. She knew from the stoop in his shoulders, from the way his gaze avoided his fans' and the preoccupied way he answered their questions. He'd been this way before. When she knew him in life.
-Tag 7 other authors, and let them know they're it!
Seven?! Okay, I think I can do that…well, maybe six…it's getting late. And some of you only know me from the Write A Book With Me blog.
Anyway, I'd love to take a peek at:
Prue at What's It All About? An even more dedicated writer than I am, your persistence, fortitude and talent is a constant source of inspiration to me.
Kristina Stanley at Kristina Stanley-The Writing and Cruising Lifestyle: Sailing and Writing–what's not to like? Congrats on submitting 'Burnt' to your agent!
Roxanne Crouse at Roxanne Crouse Writer: Congrats on releasing your story 'Fortune'!
Janet Walters at never2late2write: Keep those riveting excerpts coming!
'Armchairauthor' at Ink: Always something new and entertaining, from book reviews to novel nuggets, currently editing her completed novel 'The Grove'
Mike Schulenberg at Mike Schulenberg-Realms of Perilous Wonder: You said it would be okay if I tagged you! Muw-hahaha…
You guys are all the best, and I can't wait to see what you've been up to in your writing. And thanks again, Jamie Ayres, for including me in the fun!